by Rosamond J. Kinzler, Cameron's Aunt.
We did it! We finished the Space Coast Marathon on 26th November, 2017, in Cocoa Beach, FL – hard to believe. It was literally just one year before that, in November of 2016, that our sister-in-law Corinne said to Carl, myself, Carl G and Liv, if we wanted to run a marathon in memory of Cameron next year to raise funds for the Cameron Bespolka Trust.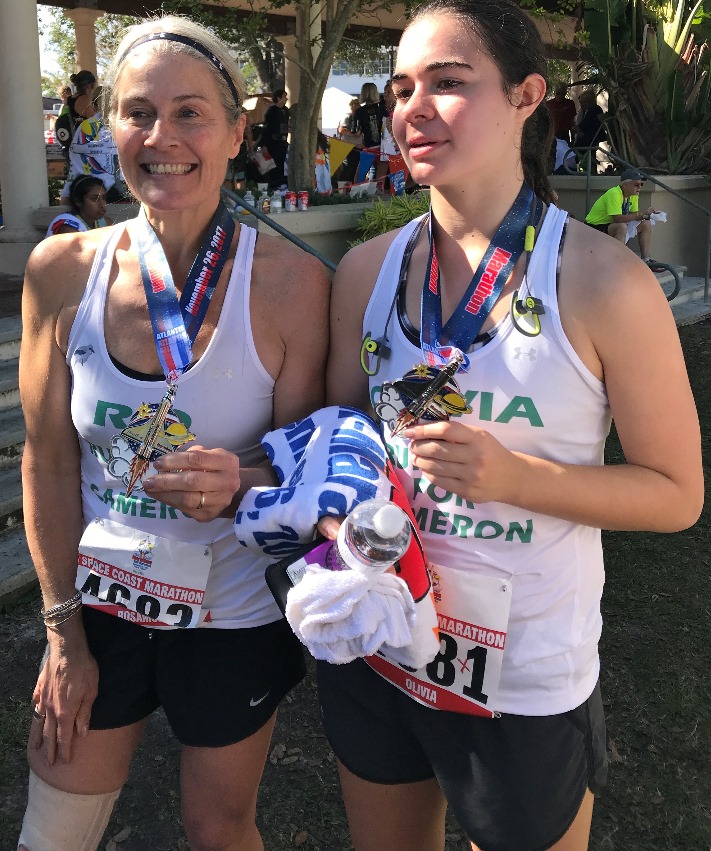 Rosamond and Olivia
It seemed like an amazingly daunting undertaking, but all of us wanted to contribute to this amazing cause in honor of our nephew and cousin. We were runners of some sort (Ro, Carl and Carl G), or a varsity level track athlete (Liv), and it was comfortably far enough in the future that we said yes! We learned that she and daughter Megan would be running and would hopefully be joined by some of her lacrosse teammates from Rollins College. At the time, daughter Sienna was not planning on running because of age requirements (over the summer, Sienna decided she would work around the age limits and join the team as well, which was awesome, particularly for Liv as it meant that she would have a running partner). In February of 2017, we registered and I started training with some seriousness.
Fast forward 8 months to race weekend – we travelled down on Saturday, the day before the race and met up with the rest of our Running for Cameron team: Corinne, Megan, Megan's friend from Rollins, Brooke, as well as our support crew Aya, Kevin and close family friends Julia and Robbie. Excited and nervous, we spent a pre-race dinner together, discussing speed and tactics and speculating how we would feel on the day!
The day had come! An early start, we were up at 4.30am and ready at the start line by 5.45. It was still dark as we got there, it all seemed quite surreal with all these very friendly runners around us. And then we were off! Corinne and I ran at the same pace and had decided to run as much of the race as possible together. Megan and Brooke teamed up together with Carl and Sienna and Olivia were very happy to run and chat most of the way! Carl G took off at great speed and left us for dust!
We benefitted from some really valuable advice from family members who had run marathons – Kevin and Lars Bespolka. Thank you so much!
We got to the half way mark and were all feeling pretty good! (Sadly Carl and Brooke had to retire as their injuries flared up and I am so glad they were brave enough to stop and not cause real damage). Corinne and I had fallen in line with a very nice pacer called Steve who was entertaining and helped us a lot! In addition, I had access to what I think of as 'technical' running food - gels and chewies which made a big difference. I only managed to eat a couple because I really am not someone who eats during or before running but I think the few I ate really made a difference, especially for the last 6 miles! Also, really important was the support of our fantastic support crew (joined by Carl, Brooke and her Mum) who were looking out for us, providing us with gels and chewies and giving us updates on how the rest of the Running for Cameron Team was doing. This was amazingly motivating, particularly between the 13 and the 18 mile point! I don't think I have mentioned how really wonderful the course was and how stunning the Intercostal Waterway path was for the entire distance and,I am very happy to say, absolutely flat. The course was literally 6.5 north, 6.5 south, and then 6.5 further south, and 6.5 north - so it was very easy to segment the full marathon into quarters, which made it seem more achievable. All this meant that in fact the first 18-20 miles really were not bad.
The last 6+ miles were definitely much harder though. Getting to the 18-mile point wasn't bad but it seemed to take forever to get to the 20 mile point. Once we got there, we tried to encourage ourselves and our running group that we could do this - we had all run so many 10Ks as part of our training, and after all - it was 'just a 10 K' to go. But, consistent with what we had heard from others, the last 10 K is nothing like any of the first parts, or any of our training - so it really was uncharted territory. We labored more and chatted less. I had actually resorted to praying the rosary in my head to help keep me going – a strategy I had developed on some of my longer training runs earlier that fall. By mile 24 we were really starting to hurt. We proceeded on and were really laboring - which is visible in our pace – we slowed to over 12 minutes per mile, in fact. We even considered walking part of the last mile, but when I tried to do that I found it was actually much worse to try to walk than to keep running - so we decided to keep running. Which we did – with Corinne and I entering the stadium and crossing the finish line, after running the entire marathon together, literally arm and arm - which was amazing!
One thing Corinne had said I think the night before that really stuck with me (because at the time it seemed ridiculous J) was 'we need to make sure we remember to enjoy the experience'. I thought this was crazy at that point because I was actually quite worried about the race and whether or not I could do it! But in fact - I am really glad she said it because it helped us to actually do it and to enjoy the experience. We were running our first marathon, for such a meaningful cause as part of the Running for Cameron Team, on a beautiful, flat course, in perfect weather in sunny Florida.
Overall, the Running for Cameron Team was amazing. After Corinne and I finished, Carl G. and Megan finished not too far behind and then Sienna and Olivia, really surprising us by deciding to complete the full marathon (they were supposed to stop at the half!). They all showed such fortitude (and given that none of them trained nearly as much as Corinne and I, the amazing capacity youth affords!). I could not be more proud of our group running and supporting us and finishing our first ever marathon together. Running for Cameron is one way to remember a very special young man.